Crow Tattoo Meaning: When people decide to get a tattoo design on their skin, they think about the things around them and their meanings as well, and then they finally decide which tattoo design is the best for them. Some people would like to ink a crow tattoo design in their skin.
They also decide how many crows should be in their tattoo design. Because the different number of crows in a tattoo design has a different meaning. As 1 crow in a tattoo means bad luck, and on the other hand, 2 crows in a single tattoo design represent good luck. Like that, 3 crow denotes good health in different cultures, and 4 crows show wealth in someone's life. Moreover, 5 crows in a single tattoo design consider not suitable as they are known as a symbol of sickness. This story doesn't end here; if the number of the crows in a tattoo is 6 then it is a sign of death.
Symbolism in Different Cultures
Many tattoo lovers love to draw a bird tattoo on their skin like a parrot, sparrow, crow, and many other birds. Black colored bird tattoos are trendy these days. The crow tattoo design is famous in different cultures and civilizations due to his meaning. The thing we all know about crow is that it is a very clever and wise bird. As well as good, the crow tattoo in many cultures considers bad and having dark meanings.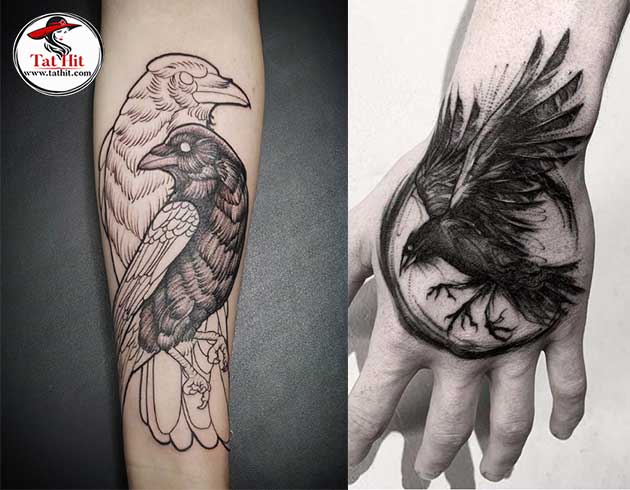 Japanese people believed that any bird has color black is the messenger of the gods, and they love these tattoo designs. Chinese culture denoted a black color bird tattoo like crow or raven, a symbol of family affection, and they believed that a black crow is a solar symbol which becomes the sun itself.
Also love: Eagle tattoo meaning and designs
In eastern countries, it believed that if a crow is sitting on the wall of a home and cries, it means guests come to meet them soon. People also believed that if a crow flies consistently three times over a home, it is a sign of death. Moreover, a dead crow considered a sign of goodness.
In American cultures, crow tattoo is popular so that they believed that crow provides them a spiritual guide because it is a messenger of Prophets. On the other hand, crow considered a bad omen in western cultures. They said that crow becomes younger soon after birth. Greek take crow as a messenger of bad news.
Crow Tattoo Designs and Ideas With Meanings
Here are many crow tattoo ideas with new designs for men and women. Because of crow's symbolism, all the gender love to ink their bodies with this traditional, beautiful bird crow tattoos.
Big crow tattoo design on the upper arm for men looks neat and stunning. A traditional crow with a flashing eye indicates cleverness. Here: little bird owl tattoo meanings and designs.
Black crow tattoo designs with meaning
Black crow tattoos are traditional tattoo designs that widely use for years in different cultures and civilizations. Here a crow is sitting on the branches of a tree, and the leave is fall in a season and crow sit on the tree whether there are green leaves or not. It looks like evening time when the sun is about to go off in an hour. This tattoo is a beautiful scene we see in our lives, and the tattoo artist captures it in his art style, which makes this tattoo an amazing one.
Tribal crow tattoo designs and meanings
A terrible crow tattoo on the chest of a man most people choose. Mostly terrible tattoos are favorite for men. And when we need a great tattoo design, then the chest is the part of the body where we can ink a big crow tattoo. Because a big tattoo design is more precise than a tiny one, and also show deep symbolic meanings of the tattoo.
Celtic crow tattoo designs with meaning
There is a Celtic crow tattoo on the forearm for men is a great tat idea for all the men. Because like any other bird, a flying crow is looking gorgeous. I love a crow when he spread his wings, and this moment is capture in the above tattoo, so it is my favorite one.
Crow and skull tattoo design and meaning
Like any other wild tattoo, whether it is an animal tattoo or a bird tattoo, a skull is attached with a bird to indicate its pure sad meanings. Here a skull wit crow tattoo on the shoulder of a woman is a good tattoo style for other girls.
Crow feather tattoo design and meaning
As we all know about this renowned bird (Crow), and his feathers are long about 4 to 5 inches, and looks lovely. A crow feather with eight tiny flying crows on the shoulder and upper arm for girls looks genuine tattoo idea. Mainly, I love the color scheme of this amazing tattoo design. Anyhow a feather surrounded by flying crow is a great tattoo design for all women.
Related: Fox Tattoo Meanings and Ideas
Watercolor Crow Tattoo Design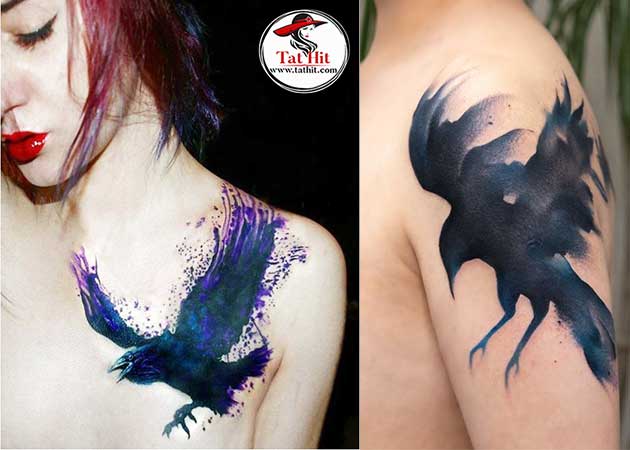 A crow tattoo design looks minimalistic, or watercolor is an excellent choice for girls and males. It looks like an ink bottle blasts on the body of a girl and prints a beautiful, terrible flying watercolor crow tattoo. I hope you love minimalistic watercolor crow tattoos.