Tattoos that represent a person's love for flowers are becoming increasingly popular among both sexes. There are several Flower tattoo patterns that people love to draw on their different body parts like arms, shoulders, fingers, back, waist, legs, etc. This article discusses one of the flower tattoo types that is the gardenia tattoo or gardenia flower tattoo.
Gardenia Flower Tattoos
Gardenia Flower
Gardenias Flowers is a popular pick for wedding bouquets because of their pleasant scent and beautiful, soft & snowy white shades. It has a lot of definitions, including:
Alignment
Clarity
Dreams
Friendship
Hope
Innocence
Intuition
Protection
Purity
Renewal
Self-Reflection
Trust
Such gardenia meaning is primarily significant in Asia as it commonly blossoms here apart from other parts of the world.
Gardenia Tattoo
Gardenia tattoos are lovely and delicate. They are usually preferred to symbolize love, purity, refinement, and innocence, but this can vary significantly depending on the color. The white and red Gardenia tattoo color represents gentleness and innocence and the hidden love between people.
Some people get a mystical experience with inking Gardenia tattoos, while others reflect it as a sheer desire and appreciation.
Gardenia Tattoo Designs
Gardenia tattoos are designed in many forms that different people name differently like:
Tiny Gardenia Tattoo
Gardenia Flower Tattoo Small
White Gardenia Tattoo
Gardenia Flower Geometric Tattoo
Hyacinth Tattoo
Eccentric Gardenias Tattoo
These beautiful Gardenia flower tattoos are attention-seeking and emit a pleasant glow, attracting both the wearer and the passer-by. Thus, we have highlighted some of the best Gardenia tattoo designs that are the force of attraction and positive energies.
1. A Simple Gardenia Flower Tattoo Design:
In this tattoo, a pair of two gardenias mixes in, providing a sense of spirituality and giving the wearer a lovely appearance. Its delicate lines give it a natural appearance, giving it a mystical feel. The two flowers are similar in height, giving them the impression of being twins.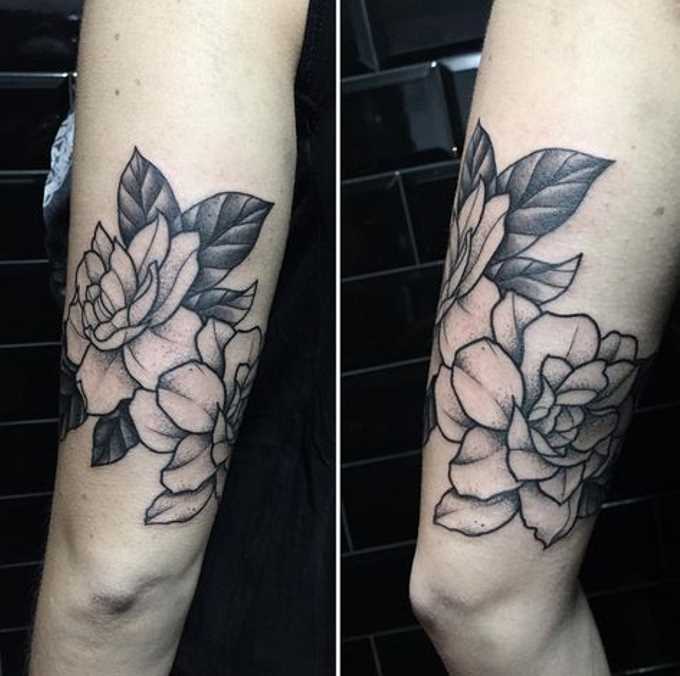 Size: It fits better in a medium-sized format.
Color: It looks stunning in monochrome or with a pink or white flower splash.
Area: It can be engraved on every part of the body that is visible.
2. A Small Mysterious Gardenia Tattoo:
A gardenia flower tattoo may be the perfect option if you're looking for intrigue in your body art. Its simple petals tend to be not only attractive but also simple to make. The black circle in the center brilliantly elevates the flower.
Size: When completed in medium to small sizes, this tattoo looks terrific.
Color: With a black circle in the center, the white color of the flower looks elegant.
Area: The elbow, forearm, and back of the neck are the safest places to have this tattoo.
3. Tattoo Pattern for A Bunch Of Gardenia Flowers:
If you think a single gardenia flower is lovely, you should consider getting a tattoo of a bunch of them. The natural appearance of the tattoo is due to the exquisite details of the petals. The leaves' black coloring is another beautiful addition that elevates the tattoo to a different elegance level.
Size: It appears better in medium to immense sizes, depending on the body part.
Color: While it looks better in monochrome, you can add a splash of paint if you want.
Area: The arm is an excellent place to have this tattoo engraved.
4. Gardenia Flower Geometric Tattoo:
Geometric designs are becoming more common because they bring a contemporary touch to even the most basic tattoos. The gardenia tattoo has a 3D appearance due to the black triangle in the background, making the wearer stand out.
Size: Small to medium-sized tattoos work well with this design.
Color: Fill the backdrop triangle of black, and the plain black pattern for the flower looks lovely.
Area: These patterns appear better when engraved on the shoulder and back of the collar.
5. Gardenia Shoulder Tattoo:
This gardenia tattoo is pretty cool, and it comes with a stem and leaves that elevate the bloom. Depending on your tastes, you can use monochrome or color ink. You may have this tattoo engraved on your back, calf, or leg to make it even more beautiful.
Size: For this style of configuration, a medium-size tends to be the best choice.
Color: A stunning flower with bold black lines and grey coloring.
Area: The shoulder, calf, or leg is all excellent places to get this tattoo inked.
Gardenia Tattoo on the Arm:
This gardenia tattoo shows one full-blown flower with a tiny bud on the design's downside. The arm may be a wonderful place to show off this tattoo's elegance. Also, it can reflect the attraction to the attractiveness of this flower and the good energies it emits.
Size: Based on the case, a medium size is ideal.
Color: The predominant black color of this tattoo is breathtaking.
Area: The forearm or the calf is ideal places to get this tattoo etched.
Gardenia Tattoo Design in a Sleek Style:
If you like simple flower patterns, this gardenia tattoo might be perfect for you. The thin lines of the flower are lovely, and the grey shades provide a stunning effect. The gardenia's leaves are covered with black, effectively elevating the pattern in the middle.
Size: It works well in both small and medium sizes.
Color: The tattoo is brightened by the grey coloring around the flower and a narrow black line.
Area: It can be engraved on every part of the body that is visible.
Eccentric Gardenias Tattoo:
If you want to show your passion for someone secretly, a pink gardenia tattoo is a good option. The tattoo looks genuine and elegant due to the smooth and delicate lines on the leaves and flowers.
Size: You can have this finished in medium to large sizes to appreciate this style's elegance.
Color: It is available in red for the flower and green for the leaves.
Area: When engraved on the shoulder, thigh, or back, this tattoo looks fantastic.
Conclusion:
If you are looking forward to designing the Gardenia Flower tattoo, no further wait. Choose a design at your fingertips without hesitation and enjoy the sense of this lovely flower. The gentle but magical flower comes in a range of shapes, colors, and sizes and can be put anywhere you wish.